About Us
B&A Bakery is a German homemade style bakery that specializes in a variety of baked goods such as soft pretzels, breads, rolls, cookies, wedding cakes, strudels, pastries. Feast on the Pumpernickel Bread, the Cream Horns, or even their Elephant Ear cookies!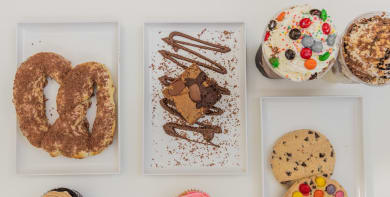 Reviews
Karen
"Bakery goods are awesome!!"
2021-12-31
Cathy
"Everything looks great! My only complaint is the white bread doesn't seem as fresh like it may not have been baked today"
2021-11-27
Contact Us
Find Us
12908 82 St NW, Edmonton, AB, Canada, Edmonton, T5E 2T2
Opening Hours
Tuesday
8:30 AM - 3:00 PM
Wednesday
8:30 AM - 3:00 PM
Saturday
8:30 AM - 3:00 PM
Please note, delivery times may vary.
We deliver to
T0A, T5A, T5B, T5C, T5E, T5G, T5H, T5J, T5K, T5L, T5M, T5N, T5P, T5S, T5V, T5W, T5X, T5Y, T5Z, T6A, T6B, T6C, T6E, T6P, T6S, T6V, T8A, T8B, T8H, T8N, T8T